Neck Pain - Whiplash
Exercises that stengthen and stretch the neck mucles often help relieve and heal neck pain.
Causes for neck pain
Sudden "whipping" motion causes injury to the surrounding and supporting tissues of your neck and head. Muscles react by tightening and contracting, creating muscle fatigue that results in pain and stiffness
Muscles Affected by Whiplash
By Mark Giubarelli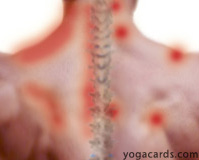 The neck consists of 7 cervical bones or vertebrae (C1-C7) held together by muscles, ligaments, intervertebral discs and nerves. Damage usually occurs in what's called, "soft tissues" which can be the discs (spine shock absorbers), muscles or ligaments.

Whiplash also known as, "acceleration-deceleration injury of the neck" can affect any of the following muscles: SCALENUS ANTERIOR, SCALENUS MEDIUS, LEVATOR SCAPULAE, LONGUS COLLI, SUPRAHYOIDS, STERNOCLEIDOMASTOIS, ANTERIOR SUBOCCIPITALSSPLENIUS CAPITIS, SEMISPINALIS CAPITAS, SCALENUS POSTERIOR, POSTERIOR SUBOCCIPITALS, LONGUS CAPITAS, INFRAHYDOIDS, TRAPEZIUS.