Vinyasa Yoga Sequencing and Flowing
Vinyasa Yoga postures to transition from and to: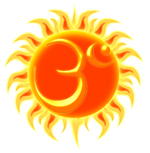 Sun Salutation Video Clips - Sun Salutaton (Win) - Sun Salutaton (Mac) - Enlarge Pic




Yoga Teacher Tips
The simple statement which indicates raising one leg up off the mat in Downward Dog pose will be most responsive in class. Mention which leg with the instruction. Then go into detail about how you want the leg and the hips and other major points of alignment.

Always mention the breath that accompanies the movement into the pose. It may be more beneficial to mention this before the action is instructed. Monitor the response of the class and get feedback from practitioners. This will ensure the instructions, and the order that things are mentioned, are most effective.

Talking simply about energy or force can help practitioner understand the simple aspect of a complex subject. Talk about lines and try to encourage there expansion.

"When lines of force feel straight they usually are. In this pose there is a straight line through the arms all the way up to the toes of the raised leg."